View Webinar Recording HERE.
You've read the national studies. You've reviewed your hospital's reports. You've experienced it in your unit. Nurse turnover is an issue that impacts hospitals large and small, rural and urban, community or academic, for-profit and non-profit. Currently, the national rate is between 16-17 percent and health systems across the U.S. are prioritizing their retention strategies and investments.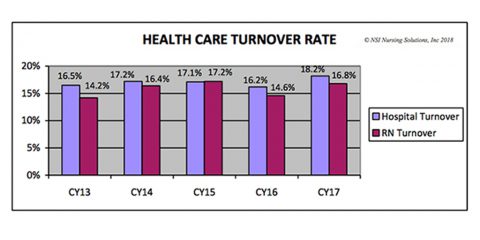 But, how does a chief nursing officer embark on a strategy to reduce attrition, especially voluntary termination, when so many factors play into a nurse's decision to leave. Is it the stress level of the specialty? Is it the expectations of a specific age group? Is it the tenure of the nurse? Or is the action, or the lack of interaction, with a nurse manager? Clearly, a better understanding of research-based trending and benchmarks in these areas can help.
That is the objective of Laudio's latest research study on turnover to be published this Fall.
The research team completed a first-of-its-kind study based on original HR records, not summary totals. This included attrition data on 11,266 RNs at 12 hospitals across the US ranging from community hospitals to academic medical centers.
This week, the preliminary results were previewed on our webinar, "Is My Nurse Retention An Issue?" The focus of the results was on the "unchangeable" factors in the turnover equation such as age, tenure in organization, and current specialty. In addition, the presentation included evidence-based "changeable" factors that a nurse manager can influence such as increased engagement, which are proven to reverse turnover trends.
As an example, in the former category of factors, one of the questions the researchers explored was if there were seasonality in turnover. The data suggests that indeed turnover is highest in June and in December, up to 6 points higher than the lowest monthly rate in July.
Though speculative, there was discussion that the end of the school year could be a factor in June and year-end evaluations could have been a factor in December.
More surprising insights included which age groups are more likely to turnover as well as how many years a nurse has worked at the hospital. To view the complete 30-minute presentation, watch the video recording and look for our white paper in late September.