1 in 5 Inpatient Clinical managers have spans of control of 80+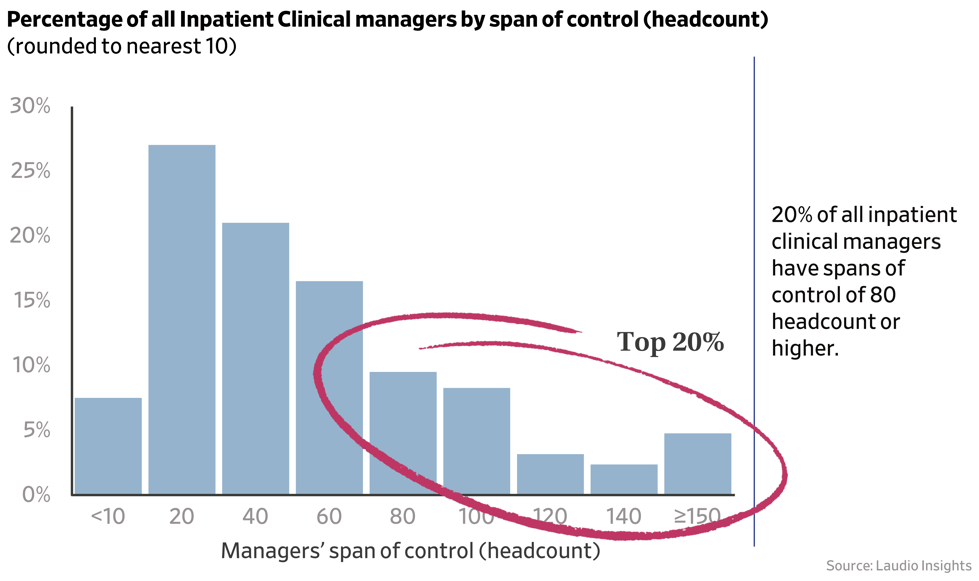 What the data says
The data is a snapshot as of October 2023. 20% of inpatient clinical managers have headcount spans of control of 80 or more.
As shown in the chart below, the median span of control across all inpatient clinical managers is 41 headcount. Intensive Care areas (e.g., ICU, NICU, CCU) have the highest median spans of control.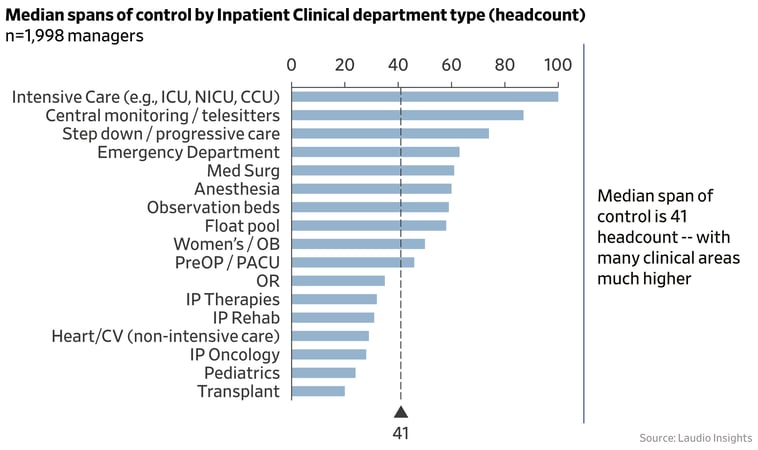 What it means
1 - Higher spans of control mean less time with each team member - which conflicts with an increasing employee desire for coaching.
Employees are increasingly looking for a manager who invests in them personally and who will coach and mentor them. This is certainly an expectation of the Generation Z workforce, but it is a changing expectation of the overall workforce as well. That level of support is infeasible for managers with excessive spans of control unless a number of robust support mechanisms are in place.

Younger employees are also looking for a leader that will support their growth and help them build new skills. Large spans of control imply flatter organizations where fewer advancement opportunities exist for any given team member.

Laudio's research has shown that a manager needs at least one purposeful interaction per team member per month to have a significant impact on retention. To reach this goal, managers need a plan and process for doing this. A purposeful interaction is one that reflects the work being done by the employee.

Purposeful interactions and meaningful recognition can be both time-consuming and uncomfortable, especially for new managers.
2 - All employees need to share ownership of the work.
A CNO for a large urban facility shared her perspective on span of control:
"Communication is crucial with larger spans of control. One challenge is to ensure that as a manager, you are communicating everything with everyone. The best way to do that is to build a culture where every individual on the team owns the work, not just the leaders. At our facility, we are doing a full review of spans of control and investigating options for the departments with the highest spans of control. We also work with the manager to establish assistant managers, typically at least one for the day shift and one for the night shift in those cases."
What the implications are for healthcare leaders
1 - Executives should support managers by regularly reviewing spans of control; also partner with managers to build process improvements and reduce administrative work.
Executives should re-evaluate the long-term ongoing trend in clinical units to increase spans of control. As the growing needs and opportunities of a new incoming generation are contrasted with current financial stresses, it is timely to reconsider the long-term value and cost of continuing the trajectory. Part of the historic rationale for combining units within a single manager was based on clinical similarities; to do so assumes that the value of the manager role is based on their clinical expertise within the specialty. On the contrary, it is increasingly clear that the value of the manager role is in their ability to have individual relationships and interactions with team members, which is at odds with the growth in spans of control.

Managers need to build efficiencies into their daily and weekly standard work. To do this, they can lean on others in their peer network. A manager cannot be an expert in everything; they need to find those who are the experts and learn from them. They can identify process improvements and even automate specific tasks when possible. For example, some tech-based systems have features that will email aggregated reports to users on a weekly basis, which can reduce the time spent logging in to multiple systems.

Service line leaders need to find new ways of removing mundane tasks from managers' responsibilities. Directors can also support and guide managers in how to most effectively use technology; they can be ambassadors to reduce the proliferation of self-service tools that put the onus of administrative work on the manager.

2 - Managers and executives need to build a culture of increased delegation.
Most managers need to delegate more. One healthcare VP shared that his mentor advised him: "When you're new to a role, you're tempted to double down on the tasks that you know you're good at. What you need to do is to train others and delegate what you know how to do because you know you can spot check their work efficiently. You then need to spend your time building the skills and processes in the areas that are new and uncomfortable." It remains good advice and applies to many leaders. Managers need to carve out the time to do this.
Areas for future analysis and discussion
What is the impact of varying spans of control on retention? Should managers be leading with 80+ spans of control?

How are administrative support roles used to support managers with high spans of control?

What are the tactical steps that managers with the highest spans are doing that other managers could learn from?
Data definition
Data from October 2023. Managers' span of control is rounded to the nearest 10. Direct reports assigned to assistant managers/admin support roles are assigned to the manager for this report. Includes all inpatient clinical departments, including ED, float pool; observation beds; does not include ambulatory, laboratory, or administrative departments