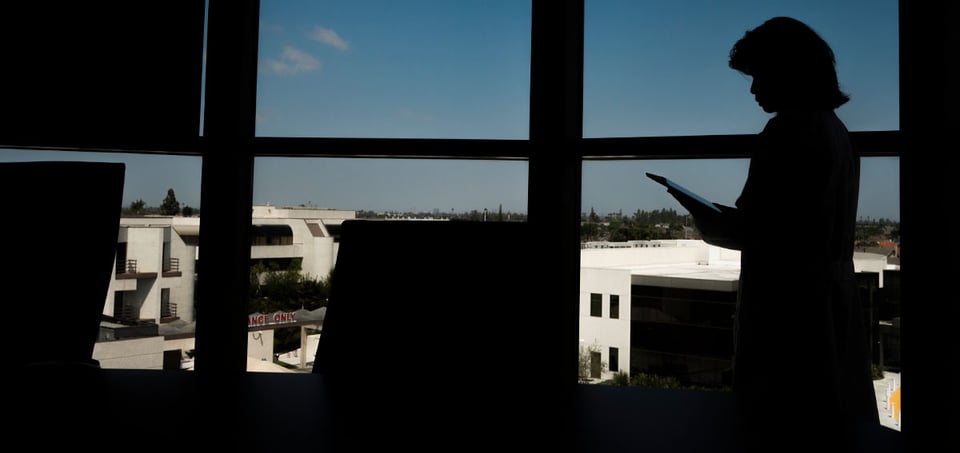 Efforts to reduce nurse attrition are taking new forms. Shela Kaneshiro, chief nursing officer of Orange Coast Medical Center in Fountain Valley, at work in her office using a new computer platform designed to enhance engagement with frontline nurses. Photo: Kyusung Gong
After a terrible skiing accident six years ago, physician-turned-entrepreneur Russ Richmond, MD, suddenly found himself experiencing health care from the patient's point of view. On a family vacation in Vermont, he was gliding across fresh snow when another skier rammed him from behind, knocking Richmond headfirst into a tree. He suffered neck, arm, rib, and leg fractures.
Surgeons fused the vertebrae in his neck, implanted a titanium rod in his femur, and performed many other procedures. During the three months Richmond spent in the hospital recovering, he developed a unique bond with the caregivers who frequented his bedside. They confided that they felt overworked, underappreciated, stressed out, burned out, and eager to quit.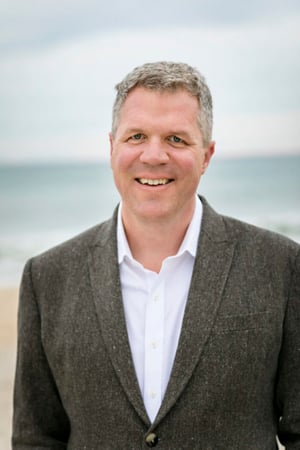 "I became utterly convinced that health systems and hospitals were not doing enough to motivate, retain, build, or invest in the nonphysician workforce," he said.
Those bedside conversations became the basis for Laudio, a digital health care start-up he founded in 2017 with three other entrepreneurs, CJ Floros, Tim Darling, and Mridul Ganesh. The company aims to help nurse management better support frontline health care staff. Laudio's platform is essentially a dashboard that pulls together fragmented human resources data systems into a single screen display. Artificial intelligence algorithms analyze and prioritize the data into actionable tasks to help hospital leaders provide better support for their nurses.
For example, Laudio's system nudges nurse leaders about upcoming events or milestones so they can remind individual staff members about licensing requirements or send them messages of appreciation for high performance. Laudio aims to use these techniques to help managers reduce burnout and high turnover rates among frontline health care workers — a longstanding problem that the COVID-19 pandemic has exacerbated.
The shortage of health care workers is a significant problem, and it prompted California governor Gavin Newsom to sign an executive order last August reinstating emergency provisions allowing out-of-state health care workers to be hired in California. The health care worker shortage is especially severe in California's rural hospitals (PDF), where most of the patients are Medi-Cal enrollees with low incomes or disabilities.
Reducing the Nurse Shortage
CHCF recently invested $1 million in Laudio to support its partnership with hospital and health systems in California to improve retention of nurse staff. CHCF also provided grant funding to evaluate the success of Laudio's platform and to publicize those takeaways to benefit other health systems.
How CHCF's Innovation Fund Works
The CHCF Innovation Fund aims to help improve access and to ensure people-centered care for all Californians. The fund partners with emerging companies to bring the best innovations and technology to providers, health systems, payers, and patients.
CHCF invests in early- through growth-stage companies, providing critical investment capital and network-building support to mission-aligned entrepreneurs.
The investment team brings deep knowledge in policy, delivery system partners, and Medicaid reimbursement in California so it can help investees navigate the state's complicated Medi-Cal ecosystem.
"Laudio is addressing the health care workforce shortage, one of the most critical challenges the field faces, particularly for the safety-net health system," said Melissa Buckley, director of CHCF's Innovation Fund. "These shortages create stress, burnout, and turnover among nurses in the hospital systems serving Medicaid patients, which can cost hospitals millions for recruitment efforts and make it hard to deliver high-quality care."
In addition to CHCF's stake, Laudio closed a round of funding from investors in 2019, bringing total investment to just over $9 million. Laudio is currently being used by 13 health systems and a few dozen hospitals nationwide. One of its customers is Southern California's MemorialCare Health System, where Laudio was piloted at Orange Coast Medical Center in Fountain Valley and then rolled out to three sister hospitals. The MemorialCare Innovation Fund, a strategic investment vehicle of the health care system, is an investor in Laudio.
Nurse managers have a lot on their plates, and Laudio wants to make their lives and the lives of their employees easier, said Shela Kaneshiro, chief nursing officer of Orange Coast. Kaneshiro and her nursing leaders use the Laudio platform to help engage with nurses and other care team members.
Thoughts of Quitting
During the pandemic, surveys indicated one-third to one-half of health care workers contemplated quitting their jobs. Some say they are considering a switch to less stressful workplaces, and others are thinking about leaving the health care field entirely.
Even before the pandemic, rural hospitals in the Central Valley that served largely Latino/x patients and people with low incomes struggled with the effects of nurse understaffing. In general, the state had been graduating enough nurses to keep up with demand, but that is no longer the case, said health care workforce expert Joanne Spetz, director of UCSF's Philip R. Lee Institute for Health Policy Studies. A significant number of experienced nurses took early retirement when the crisis began, she said.
"Early in the pandemic, data indicated that a lot of experienced nurses bailed out," Spetz said. "Nurses who were 55 and up, probably pretty close to retirement, said, 'I'm out — I'm not waiting for four more years to retire, I'm retiring today. I'm done.'"
Hospitals need more people — but it will take years for enough nursing school graduates to make up for the lost workers, she said. "Hospitals are feeling pretty hard-pressed to deal with that, and so a lot of the attention has focused on strategies to improve the staffing situation," Spetz said.
Laudio can enable a nurse manager, who may oversee more than a hundred nurses and caregivers at a time, to quickly see or be alerted to expiring nursing certificates, to be flagged about upcoming personal anniversaries and birthdays of nurses, and to notice nurses who start arriving late to work regularly — a common symptom that something is amiss.
"You can't have the relationship you want with 100 nurses," Buckley said. "It's impossible to sit down to coffee with everyone, and it is hard to know who is struggling and feeling burned out and at risk of leaving the organization."
The platform saves nurse leaders six hours a week — time that is repurposed to build better relationships that can lead to increased staff retention and reduce turnover by 25%, according to a Laudio 2019 productivity study at a 500-bed tertiary care hospital, said Floros, Laudio's chief operating officer. Reducing churn by even one percentage point can result in millions of dollars in savings each year for large hospitals, he said.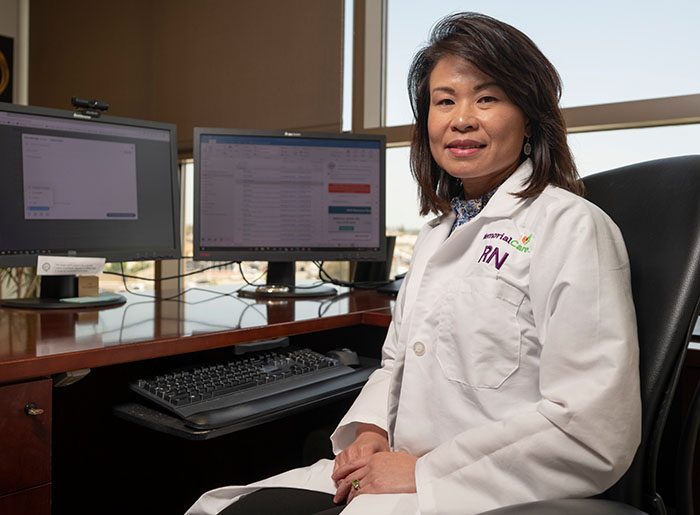 Shela Kaneshiro, chief nursing officer of Orange Coast Medical Center in Fountain Valley, accesses the Laudio dashboard on her desktop as well as other computer platforms. Photo: Kyusung Gong
No More Post-It Notes
Before Laudio, Orange Coast managers took varying approaches to keep up with their nurses, including consulting Post-It notes, mining emails and spreadsheets, and relying on other manual processes to remind them of tasks, said Kaneshiro, the chief nursing officer.
"Laudio basically feeds them the information so they don't have to search Outlook or Excel spreadsheets," Kaneshiro said. "Laudio is seamless and — surprisingly for people who may be digitally challenged — it's pretty simple to use."
In addition to keeping track of events and alerting managers about matters to engage in with specific nurses, Laudio can send digital cards and notes to nurses to acknowledge high performance. After a 12-hour shift, for example, receiving a card with praise from the supervisor can be rewarding, Kaneshiro said.
"One of the big things that staff really appreciate is being recognized for both small or big milestones," she said.
Floros has long been familiar with nurse managers' constant struggle to balance the needs and demands of leadership with those of their nurses. His mother managed nurses for 30 years.
"Every day I heard about what she was going through," Floros said. "And the ironic thing is, not a whole lot has changed since she retired."
With its solution, Laudio offers nurse managers opportunities to make meaningful connections with their staff and to align their work with the goals of health systems, Floros said.
"Frontline leaders are probably the only jobs in the entire system that every day have the ability to impact a hospital's key pillars — quality of care and safety, financial, patient satisfaction, and employee satisfaction and retention," he said.
"At the end of the day," Floros said, "Laudio is able to contribute to a setting in which nurses are able to provide better patient care and safety — and that is what matters most."
Access the full article on CHCF's site here.